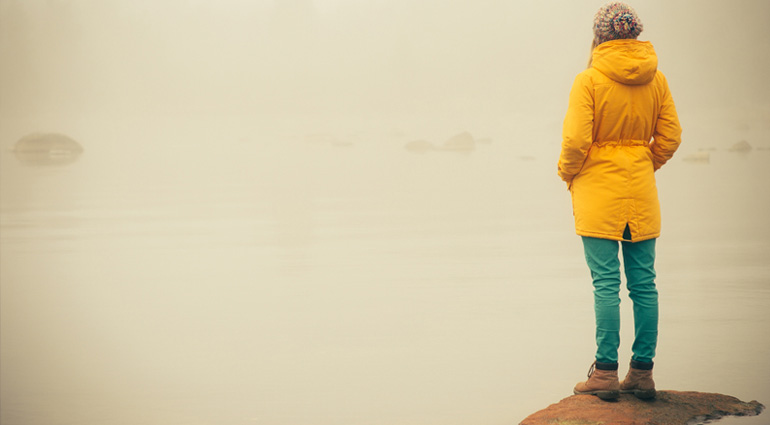 And about the ninth hour Jesus cried with a loud voice, saying, Eli, Eli, lama sabachthani? that is to say, My God, my God, why hast thou forsaken me? (Matthew 27:46)
I was reading a blog post about how we sometimes feel forsaken by God and I could relate to it so much. From the above scripture, we can hear the anguish in Christ's cry from the cross. Are you at that point where you feel God is far from your situation?
I have felt that kind of despair in my own life. Though God will never literally forsake me, I have felt forsaken, abandoned, betrayed by those I loved. I have questioned where God was in my pain — I have wondered what good could ever come from my suffering. Because of the cross, we who have felt that pain, who live with unanswered questions and sleepless nights, can unreservedly rejoice at Easter. Out of the worst evil imaginable, the sinless Son of God on the cross, God brought about the greatest good ever known.
FEELING FORSAKEN
Easter is a stunning reminder of Genesis 50:20, that what man means for evil, God means for good. In my own life, through the lens of Scripture, I can see that God has brought the greatest good out of the hardest events. But I say that in retrospect. At the time, none of my suffering felt even vaguely positive.
Sobbing by my dad's casket was devastating. Suffering from my first heartbreak, dealing with abuse, getting rejected, trailing that paper,not getting that scholarship, not getting that admission, hearing the doctor give that diagnoses about my back, and then watching it happen, was agonizing I could go on and on but…
None of those trials felt redemptive. None of them could be celebrated. None of them even made sense. I never could have imagined that God would bring something beautiful out of my pain. I felt that my pain was deforming me. That I would forever be marred by it. I was sure my best years were behind me — before "this" happened. When I laughed easily and often. When I wasn't burdened with the memories of all that had gone before.
PAIN DEEPENS US
And yet somehow, even in those horrifying trials, God was doing something. Something extraordinary. Something I could not have planned or foreseen. He was doing something in me that could not have happened any other way. It was strange and beautiful — wonderful and unexpected — the handiwork of God.
Out of the most crushing pain and terrible despair, God was bringing glorious triumph.
Instead of deforming me, my pain strangely deepened me. It increased my capacity for God. And for joy. It made me see the world through different eyes. Eyes of faith and not eyes of hopelessness. It helped me recognize that what I was going through was just a snapshot in time. One day my life will be totally transformed.
DOES EVIL WIN?
While my circumstances will undoubtedly change one day, what changes most profoundly in my suffering is me. The very struggles that I thought would break me are what God used to purposefully shape me.
That shaping did not happen instantaneously. It took time and trust. At first it seemed like nothing was happening — nothing but disillusionment and defeat. It honestly felt like Satan was wrecking my life.
Similarly, to the disciples on that terrifying Friday, it must have seemed like Satan was victorious. Their Savior was crucified. Their dreams were dead. Their hopes had unraveled. Maybe evil really had won.
And then everything was silent for two long days. It may have seemed like nothing was happening — nothing but disillusionment and defeat. But in the wisdom of God, when life looked darkest, it gave way to the dawning of the purest, most brilliant light.
GOD MEANT IT FOR GOOD
Easter Sunday reminds me that God's perspective is infinitely greater than mine. Much of what is really happening is unseen. While it may look otherwise in the moment, Satan will never be victorious and evil cannot win. God always has the last word.
What Satan means for evil, God means for good. Always.
So if you feel forsaken and have no idea where to turn or what to do, trust that God is using that very struggle. If life looks like a hopeless mess and every day is a fight to survive, trust that God will one day gloriously prevail. And when he has, when you are on the other side, trust that God will have done an incomparable work in your soul.
Then you will have learned how to rely, truly rely, on God who brings beauty from ashes — brokenness. Your life and walk with him will be more beautiful than you ever imagined. And somehow, through your pain, you will be transformed. And when you are, when you see how God has changed you, you will never want to go back to the way you were before.
Take comfort in your pain that the Father did not exempt Jesus from the test of being allowed to "feel" forsaken. It's key to understand that God didn't cause it – God allowed it — for our redemption (our good)
Yes – there may be some "questionable times" where you may have quit … but jump back in the battle of trust and keep on fighting!  Jesus will never quit helping you fight your cross battle.  He didn't die for you to lose.  He died to make certain you would stay enlisted in His army of overcomers. 
You will understand that nothing can thwart God's plans for you. What now appears to be evil will result in your eternal joy. 
I pray the staggering triumph of Easter falls afresh on you in Jesus Name. Amen
He is RISEN hence "Arise, shine, for your light has come, and the glory of the Lord rises upon you." (Isaiah 60:1)
Stay Blessed!